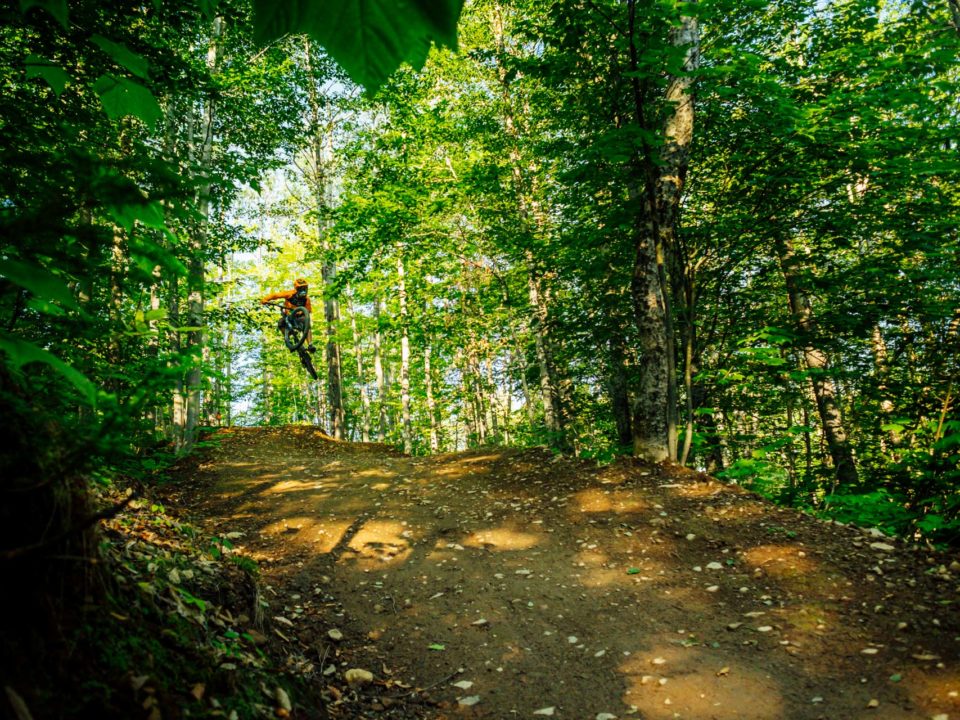 What to Expect:
Sugarloaf Bike Park – designed by Whistler Gravity Logic, offers a thrill for riders of all abilities. Riders enjoy a scenic trip on the chairlift up the 505′ mountain to the start of 10 Downhill trails and access to 10 Cross-Country trails. The trails consist of smooth, gentle cruisers, twisty single track and challenging old school rocky rooty black diamonds. Most everyone gets hooked on the fast flowy jump trails loaded with berms, tabletops, step-ups and wooden features, all making for an epic experience!!
Beginner riders will enjoy warming up in the skills park & pump track located at the bottom of the hill. It's a great way to dip your toes in, test your skills and feel some flow before moving up the hill to try Sugar Mama. This trail is 2 km long and 2 meters wide. It's a smooth surface with sweeping turns and small fun rollers that gently winds it'sway down the mountain. Sugar Mama is a perfect introduction to downhill riding and a great warm-up run for experienced riders to start the day.
Sugar Daddy is a 2 km excavated jump trail, packed with tabletop, step-ups, step-downs, berms and wooden features that will have you grinning ear to ear. Swamp Donkey is a good old-fashioned smooth and flowy singletrack. Ridgeline is another fun, smooth fast singletrack that will get the heart pumping. Intermediate riders can challenge their skills by finding different faster lines each time down helping them to progress to the next level
Advanced riders choose from a number of rooty, rocky, steep technical singletrack. Kodiak is a good intro to black diamonds with some wooden features to spice it up. A few laps of Havoc and Ti-Polo will have you ready for anything. l'Acadienne, the original double black race trail, is known for the 'Rock Garden', a fall line descent, followed by a sharp right! Supa Sweet provides a non-stop adrenaline rush with large berms, tabletops, drops, step-ups leading to the 'Vortex', extra-large circling berms and finishing up with a heart raising drop off the wooden feature!
Difficulty:
Trails:

20
Entrances:
Primary Trail Type:

Downhill
Total Distance:

32 km
Total Descent:

1038 m
Total Vertical:

120 m
Trail & Community:
Main Parking Lot

All the trails are accessible from the base of the ski area and the parking lot next to the main day lodge.
Bike friendly businesses close by:
Displaying:

1

Business

es
Sorry - there are no results for these filters. Please try again.
New
Microbrewery, tasting room, patio and beer store. Located in downtown Edmundston, New Brunswick. This craft brewery is definitely a must see when travelling to New Brunswick, minutes away from the Quebec and Maine borders. Come see our unique Grand Table, have a flight, a pint or buy some beer to go. Grab a six-pack or fill your growler.
Recent Posts About Sugarloaf Bike Park
Other trail networks close by: