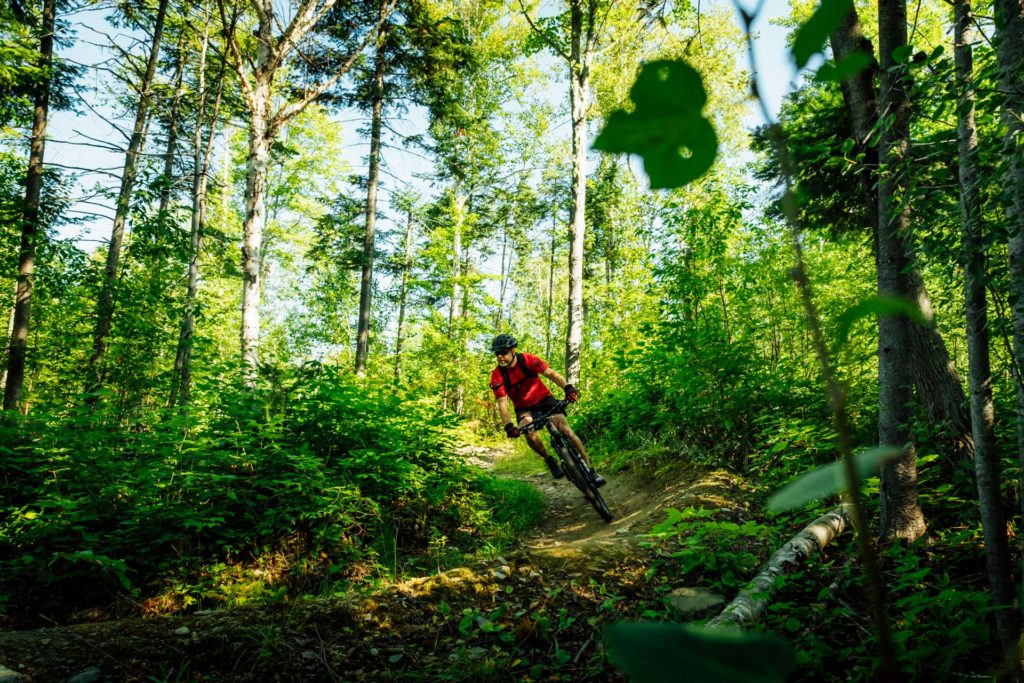 What to Expect:
Just 2 minutes from downtown Edmundston, the Madawaska Trails network is real mountain terrain. 60 km of trails built according to IMBA specifications by passionate volunteers thanks to generous forest landowners. There is an XCM endurance race (Le Petit Sault 20/40/60) and an Olympic XCO race every summer. Also accessible for walking, running, snowshoeing and fat bike in winter.
Several trails are accessible for beginners and do not have any major difficulties or significant gradients to face. In particular: the Familiale, the Iroquois, the Green, the Quisibis and the Restigouche.
Most of the trails are accessible to intermediate level users and have difficulties and features allowing them to test their skills and raise their riding to a new level.
Some technical trails offer unique opportunities for users who wish to test the most surprising natural elements. In particular: The Gounamitz, the Saut à Zair, the Mont Farlagne 2 and the Petit-Sault downhill section.
Difficulty:
Trails:

33
Entrances:
Primary Trail Type:

Cross-Country
Total Distance:

64 km
Total Descent:

2051 m
Total Vertical:

270 m
Trail & Community:
Rue Nadeau Street

Parking (Approx. 30 spaces), Gazebo, Map of trails and directions, Tools for on-site repair.

Chemin Canada Road

Passed the Travelodge Hotel Parking (approx. 20 spaces). Map of trails and directions.

Centre plein air Mont Farlagne Outdoor Centre

360 chemin Mont Farlagne, Parking (+ 200 places), Map of trails and directions, Washing station
Bike friendly businesses close by:
Displaying:

1

Business

es
Sorry - there are no results for these filters. Please try again.
New
Microbrewery, tasting room, patio and beer store. Located in downtown Edmundston, New Brunswick. This craft brewery is definitely a must see when travelling to New Brunswick, minutes away from the Quebec and Maine borders. Come see our unique Grand Table, have a flight, a pint or buy some beer to go. Grab a six-pack or fill your growler.
Recent Posts About Sentiers Madawaska Trails
Other trail networks close by: