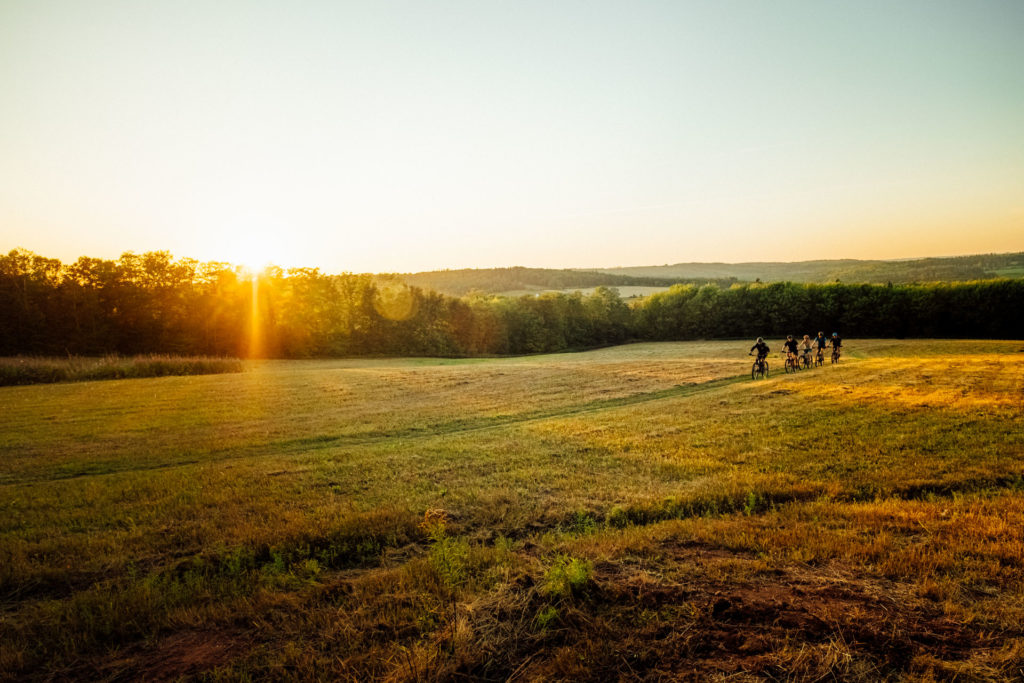 What to Expect:
The Bonshaw trail network is just 20 minutes from Charlottetown and Borden and spans throughout the Strathgartney Provincial Park and the Bonshaw Provincial Park. The 25km of trails are perfect for intermediate and advanced riders. From the smooth, flowy Elliot River Run to the rooty, technical Goat Trail, this location is ideal for an afternoon of fun! The trail systems are connected via the Bonshaw bridge underpass and the Strathshaw Link. Being a multi-use trail system and a popular hiking destination, mountain bikers need to ride with care!
Riders should have some singletrack mountain biking experience before riding here. Many trails have rocks, roots and the occasional technical climb, which may be challenging for beginners. However, parts of the main Ji'ka'we'katik trail could be suitable for the ambitious beginner if they proceed with caution.

Bonshaw is the perfect trail system for intermediate riders with a variety of terrain to challenge your riding abilities. The trails are strategically designed for mountain bikers with hard-packed dirt with roots, rocks and bridges. For those who enjoy climbing, there is plenty of elevation on the Strathgartney side to give the legs a test and trails such as Hardwood Hills and Switchbacks on the Bonshaw side will be sure to keep your cardio in check.
No double black diamond trails exist in this network however there is plenty of technical riding for experts to enjoy. Rock n Roll and the Goat Trail are a must-do for advanced riders and the Elliot River Run although rated green is the most popular trail in the system. Make sure to ride Elliot River Run both ways but be cautious of other riders as this trail is FAST! Regardless of skill level, everyone will enjoy the fast and f lowy blue trails throughout the network.

Difficulty:
Trails:

22
Entrances:
Primary Trail Type:

Cross-Country
Total Distance:

24 km
Total Descent:

750 m
Total Vertical:

85 m
Trail & Community:
Lookout Parking Lot

The lookout parking lot is just off the Trans Canada Highway and leads into the Strathgartney trail system.

MacKinnon Road

MacKinnon Rd; just off Riverdale Rd. and enters into the back end of the Bonshaw trail system.

Bonshaw Provincial Park Parking Lot

Bonshaw Provincial Park is also just off the Trans Canada Highway with a kids park and washroom facilities. Many hikers use this parking lot and the western trails so it's recommended for mountain bikers to use one of the other two options.
Bike friendly businesses close by:
Displaying:

9

Business

es
Sorry - there are no results for these filters. Please try again.
Recent Posts About Bonshaw Provincial Park
Other trail networks close by: